Filecoin Fever, Smart Contract Plagiarism and Two Provinces' Push for Blockchain — China Market Watch
A weekly overview of blockchain and cryptocurrency news from China and Hong Kong.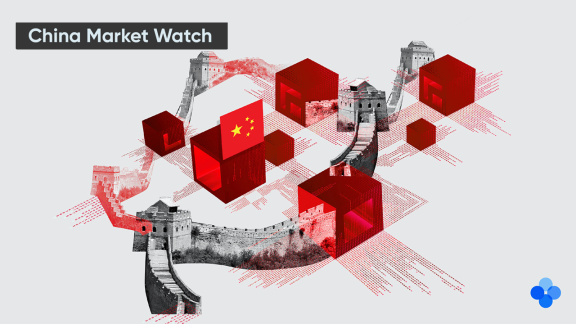 The stock market in China and Hong Kong saw a mild decline this week. The Shanghai SE Composite and CSI 300 currently run at 3,210 and 4,516, having dropped -6.97% and -6.7% over the week, respectively. The Hang Seng Index also posted a weekly value drop of -4.73%,  currently standing at 24,971.
The decline across the Chinese stock market can be explained by the recent business restrictions imposed on Chinese enterprises by the United States. U.S. Secretary of State Mike Pompeo announced that the U.S. would impose visa restrictions on some employees of Chinese technology giants such as Huawei for alleged human rights violations.
Moreover, President Donald Trump's administration is also expected to take action against Chinese tech companies TikTok and WeChat after raising national security concerns.
In terms of China's blockchain development landscape, we took a look at the Shenzhen Stock Exchange (SZSE) Blockchain 50 index, which consists of the top 50 SZSE-listed companies that have blockchain-related projects.
The SZSE Blockchain 50 index currently stands at 3,920.18, after a weekly drop of -6.14%. Among the 50 stocks included in the index, HengBao (002104.SZ) is the daily top gainer, with a 2.26% increase, while the Guangdong Advertising Group (002400.SZ) is the top loser, with a drop of -10.03%.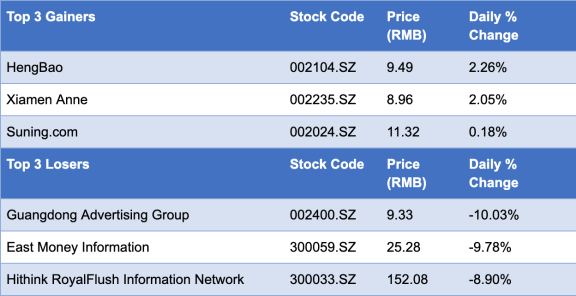 News of the Week
From Filecoin fever to the plagiarism of smart contracts in China as well as Zhejiang province's blockchain push, OKX Insights takes a look at this week's top three crypto news stories from China and Hong Kong.
Filecoin token skyrocketed prior to mainnet launch
An official blog post from much-anticipated decentralized storage network Filecoin on July 14 revealed that the launch of its mainnet is expected between Aug. 31 and Sept. 21, 2020. Following this, the daily transaction value of Filecoin's native coin, FIL, reached 300 million yuan ($42.86 million) in China, and it is currently trading much higher than its 2017 initial coin offering price.
As of July 15, stats from crypto market data service Feixiaohao indicate that the price of FIL has a discrepancy of 377 RMB ($53.86) across cryptocurrency exchanges, as prices range from 40 to 417 RMB. Such price differences present enormous opportunities for arbitrage traders.
Meanwhile, FIL's daily trading volume is currently concentrated on three exchanges — CITEX (25.08%), EXX (19.94%) and Biki (15.7%) — and its USDT pair accounted for 88.7% of FIL trading.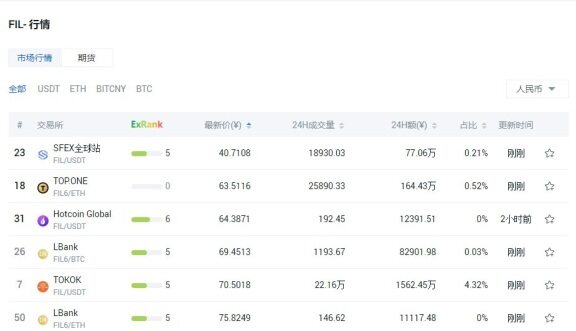 Key takeaways
FIL is a token yet to be launched and has no circulation, but it is trading at various price points on different exchanges.
Filecoin's ICO in 2017 gained widespread attention, as the firm raised over $200 million in less than half an hour.
Apart from the market hype, Filecoin just reached a milestone of 20 petabytes of onboarded storage, which indicates the rapid development of Filecoin's mining community. The developers are also working on block reward incentives and the bug bounty program ahead of the scheduled launch.
Yao at CSRC: Plagiarism on smart contract codes is viral in China
On July 12, Yao Qian — a well-known figure in China's blockchain industry, who was leading research on China's digital yuan and is the director at the China Securities Regulatory Commission — attended a seminar hosted by Tencent Research Institute and School of Public Policy and Management by Tsinghua University.
At the event, which was widely reported in Chinese-language media, Yao highlighted that while blockchain applications in China have seen notable growth, plagiarism on smart contract code remains the key pain point for China's development in the industry.
Yao noted that blockchain project teams in China usually copy open-source smart contracts code and changed a few parameters to claim them as their own. In the future, he believes blockchain engineers and developers should focus on the privacy, security and interoperability of blockchains.
Key takeaways
Plagiarism of smart contracts has been a known obstacle for China's blockchain development since 2018. Research by Netta Labs and Xi'an Jiaotong University in 2018 revealed that out of a sample of 488, there were 324 digital currencies that looked 95%–100% alike in smart contract code.
Yunnan and Zhejiang provinces gear up to accelerate blockchain adoption
In an effort to boost investments in "New Infrastructure" — a trending term in China, indicating the country's push to build infrastructure using technology such as 5G, AI, blockchain and cloud computing — Yunnan and Zhejiang provinces have included blockchain in their three-year strategic development plans.
According to Yunnan's three-year strategic development plan, the government expects a total investment of 377.6 billion RMB (almost $54 billion), which includes the deployment of blockchain in financial services, taxation, product authentication, health care, and cross-border transactions.
For the Zhejiang province, the provincial government also announced its three-year strategic development plan in New Infrastructure, with an expected total investment of 1 trillion RMB (nearly $142.88 billion). The provincial government aims to leverage blockchain development in terms of regulations, talent cultivation, blockchain infrastructure, and capital support.
Key takeaways
Zhejiang province has been a pioneer in China's blockchain development. Its provincial capital city Hangzhou announced the opening of a blockchain industrial park and a 10 billion RMB blockchain innovation fund back in April 2018.
Prior to the announcement of a three-year strategic development plan, the state-led initiative blockchain-service network, or BSN, launched its first provincial mainnet in Zhejiang in early July.
Blockchain technology has seen adoption in Yunnan province in the midst of COVID-19. Fintech giant Ant Group partnered with Yunnan International Trust to use blockchain in tracking supply chain financing in Yunnan province.
__________________________________________________________________________
Disclaimer: This material should not be taken as the basis for making investment decisions, nor be construed as a recommendation to engage in investment transactions. Trading digital assets involve significant risk and can result in the loss of your invested capital. You should ensure that you fully understand the risk involved and take into consideration your level of experience, investment objectives and seek independent financial advice if necessary.
---
OKX Insights presents market analyses, in-depth features, original research & curated news from crypto professionals.