EARN Your Way up on Passive Crypto Income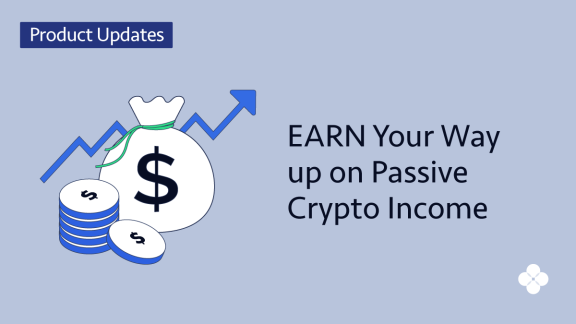 We understand how everyone wants some extra income outside of your 9-5 job. Instead of putting them in the bank, earning passive income in crypto is just as simple as just a few clicks. Ways to generate extra income in blockchain are growing and gaining popularity every day. Other than the buy-and-HODL mentality, you could actually build a passive income plan and work your way up to bigger savings.
Not sure where to start? OKX is launching EARN, a new interface for all our financial offers for users to earn passive crypto income.
Ways to earn passive income with EARN
Currently, OKX offers staking and Savings services for users to make use of their spare coins to gain extra. These value-added services are now placed under EARN, a brand-new service that gather all our financial offers in a single place. The art of HODLing is already hard to master, why make it difficult to go around the platform to find our services and use them?
Savings
Savings is a valued-added service that automatically grow your assets inside your Wallet even without trading or when the market falls short. It enables users to share OKX's income from margin loans by lending the fund you put there to margin traders; then part of the margin interest collected from traders will be allocated as the interest for users' Savings, accrued every day from the second day of depositing, so you could just sit back and wait for the interest gain to come to your pocket.
Currently, we support a total of 32 assets in Savings, including BTC, LTC, ETH, ETC, BCH, USDT, BSV, DASH, EOS, NEO, QTUM, TRX, XRP, ADA, ALGO, ATOM, BTM, BTT, ELF, HC, IOST, IOTA, LINK, OKB, OMG, ONT, VSYS, XLM, XMR, XTZ, ZEC, and ZIL. Users can select any of the above assets available for margin trading on the EARN interface and transfer to Savings for daily gain – with no minimum deposit requirement and is very flexible for withdrawals.
Staking
Staking is essentially the easiest option for gaining that extra income. OKX Pool is an innovative mining pool that provides users with safe, stable and transparent multi-currency multi-type mining services alongside staking. Users are encouraged to hold coins in the long term for higher yield rewards when the staking period expires, which is considered one of the safest choices for passive crypto income.
On the new EARN interface, users can choose to stake coins they have in their Mining/Staking Account and check their estimated yield return prior to subscribing to the service.
Another update is that staking service will now settle yields in the corresponding staked assets, for example, all EOS staking orders will be settled in EOS, and IOST skating orders in IOST, giving much more convenience for managing your profits.
Term Deposit
Apart from the existing services, we added a new "Term Deposit" function, which allows users to generate extra assets. Term Deposit is actually fixed-term staking, users' deposits will be put into an account in a financial institution to accrue passive income, ranging from one month to three months with different returns in the corresponding staked assets, all depends on users' choices.
Get ready to EARN with us
In the times of zero interest rate and uncertain markets, earning passive income is a popular means to ensure that you can have a stable stream of income apart from trading.
We're launching EARN today! Stay tuned for more details, or talk to our customer support about these value-added services via email [email protected] or chat with us on http://t.me/OKXOfficial_English.
---
Disclaimer: This material should not be taken as the basis for making investment decisions, nor be construed as a recommendation to engage in investment transactions. Trading digital assets involves significant risk and can result in the loss of your invested capital. You should ensure that you fully understand the risk involved and take into consideration your level of experience, investment objectives and seek independent financial advice if necessary.
---
Follow OKX on:
Twitter: https://twitter.com/OKX
Facebook: https://www.facebook.com/okexofficial/
LinkedIn: https://www.linkedin.com/company/okex/
Telegram: https://t.me/OKXOfficial_English
Reddit: https://www.reddit.com/r/OKX/
Instagram: https://www.instagram.com/okex_exchange