Cryptocurrency trading fees on OKX explained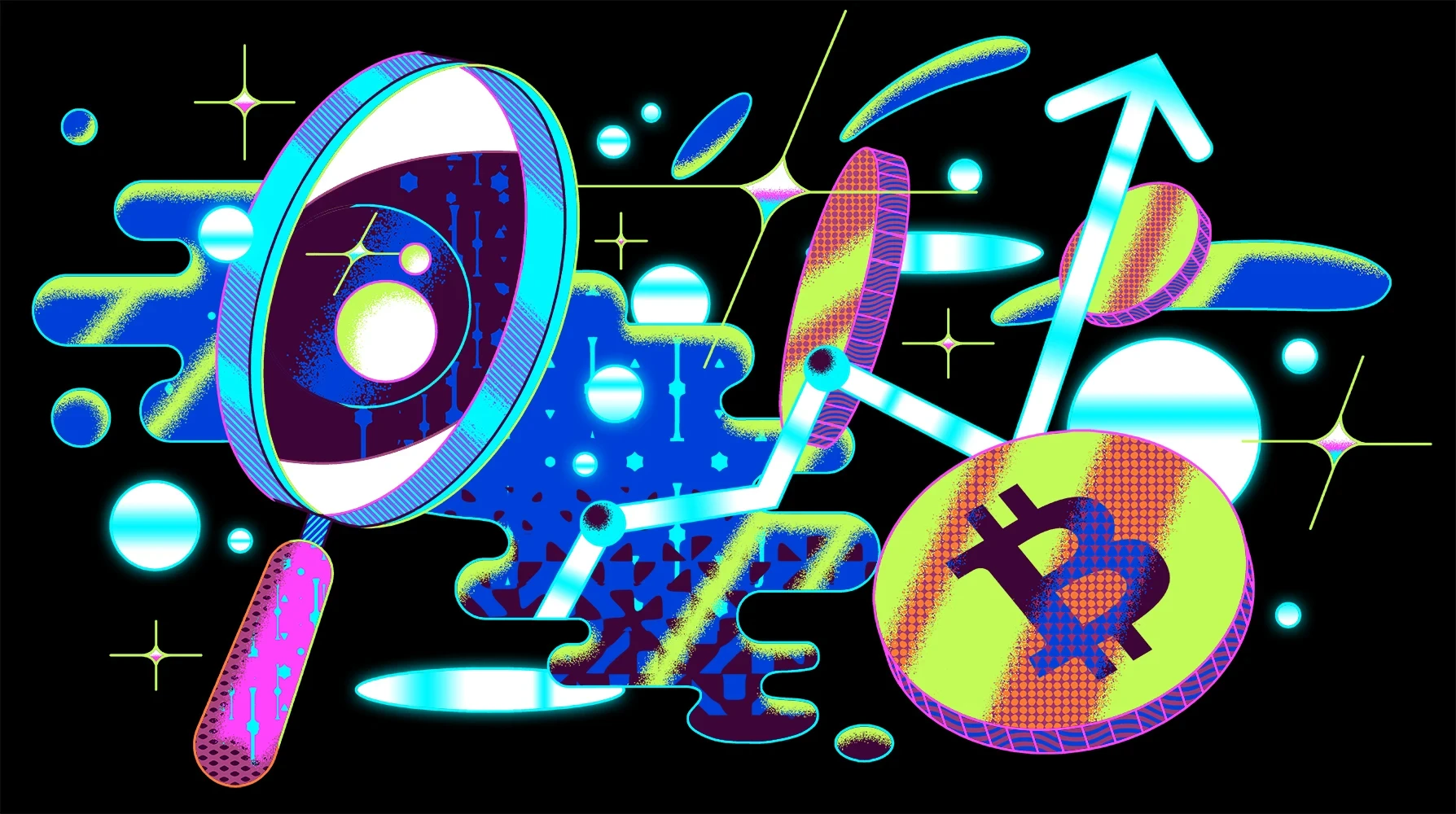 The 2021 Bitcoin bull run has once again put cryptocurrencies under the spotlight and is driving new participants to enter the space. In order to facilitate newcomers, OKX not only offers sign-up bonuses but also provides detailed resources, such as an in-depth cryptocurrency trading guide as well as a tutorial on trading cryptocurrencies using our platform.
In this article, we will be simplifying and explaining all the cryptocurrency trading fees on OKX, including a breakdown of the type of fees, their rules and their variance based on user levels and asset types.
Crypto trading fee types: Maker and taker fees
Put simply, makers are traders who add liquidity to an exchange's order book by placing limit orders that are not filled instantly and are instead available for others to take.
Takers, on the other hand, are traders who remove liquidity from the order book by executing market orders that consume the limit orders placed by makers.
Makers typically pay lower fees and are thus incentivized to add liquidity to an exchange's order book. Meanwhile, takers pay higher fees in comparison because they instantly fill their orders.
OKX maker/taker fees
On OKX, the rate of maker and taker fees depends on the following factors:
Customer tiers
Trading markets
Asset class
The rates outlined below are applied to each trade.
Customer tiers
"Regular" and "VIP" are the two main user segments on OKX, with each having its own levels, or tiers.
A regular user on OKX has a 30-day spot trading volume of less than $10 million, or futures and swaps trading volume of less than $50 million, or options trading volume of less than $5 million. This segment is further divided into five tiers based on OKB — the platform's native token — holdings. The higher the number of OKB held by a user, the higher their tier and the lower fees they pay.
Regular users can become VIP users if they have a minimum 30-day spot trading volume of $10 million (or $50 million for futures and swaps, and $5 million for options). There are eight tiers for VIP users, and the 30-day spot trading volume thresholds range from $10 million to $10 billion ($50 million to $20 billion for futures and swaps, and $5 million to $2.5 billion for options), while their daily withdrawal limits range from 600 to 2,000 BTC.
From VIP level five onward users can take advantage of "negative" maker fees across markets and consequently earn fees against each order.
Markets and asset classes
The maker and taker fee percentages also vary across spot and derivatives markets, and each of these has different categories of asset classes.
Assets offered in spot trading are classified as Class A, B and C. Futures only have Class A and B assets, swaps have Class A, B and C, while options have no specific asset classes since BTC, ETH and EOS are the only cryptocurrencies available for trading.
Class A assets represent major cryptocurrencies such as BTC, ETH, LTC and OKB, while other asset classes are detailed on the OKX trading fees page.
Trading fee calculations
Applicable trading fees are calculated based on users' highest tier across all trading products, as detailed in the fee charts below for Class A assets.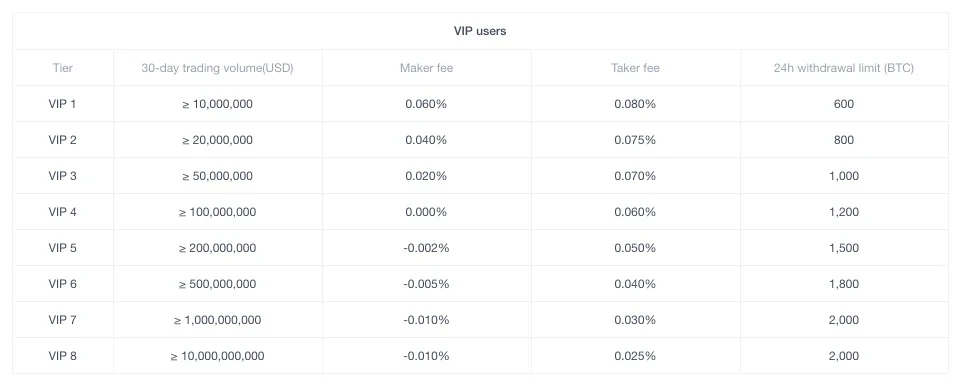 For instance, if a user has a monthly spot trading volume of $10 million (VIP 1), monthly futures volume of $200 million (VIP 3) and monthly options volume of $5 million (VIP 1), the user's trading fee will be calculated based on the highest tier — VIP3 — and the same is extended to the user's other trading activities on OKX.
For full details of the fee structure across different asset classes, please refer to this page.
Settlement of trading fees
The trading fee is settled in the base currency of the traded pair.
For the BTC/USDT pair, for instance, the fee is deducted in BTC, whereas when a user trades USDT/BTC, the fee is deducted in USDT.
Trading fees specific to futures contracts
Apart from maker and taker fees, users should be aware of futures settlement fees and forced liquidation fees.
A settlement fee is charged when a futures contract is settled. The fee rate is 0.03% for all coins and tokens, and is applied to both regular and VIP users.
Forced liquidation occurs in the following scenarios:
In fixed margin mode, if users maintenance margin ratio is lower than 10% of their margin for 10x leverage.
In partial liquidation, if users maintenance margin ratio is lower than the minimum margin requirement.
Users pay a fee whenever a forced liquidation occurs. This fee is equal to the taker fee of the user's current tier. The forced liquidation fee also applies to perpetual swap trading.
Trading fees specific to options contracts
Options traders should be aware of options exercise fees, as well as liquidation and partial liquidation fees.
Options exercise fees are charged when users exercise their options. This fee rate is 0.02% and is applicable to both regular and VIP users. One-day and two-day options are exempt from this exercise fee and, as a rule, the fee rate for a single options contract will not exceed 12.5% ​​of the contract's premium.
The liquidation fee is based on the level 1 taker fee for regular and VIP users, while the partial liquidation fee varies according to user tier and the corresponding maker and taker fees. During partial liquidation, however, a separate penalty fee is applied to short positions only, fixed at 0.2%, and is applicable to both regular and VIP users. This penalty fee, when charged, is injected into the OKX insurance fund at the time of settlement. Both the partial liquidation fee and the liquidation fee can also not exceed 12.5% of the option contract's premium.
While this guide introduces the various fee types and their application to user tiers, you can contact our Support Center for any further queries. If you don't have an account on OKX yet, you can sign up here to start trading and get a $10 bonus.
Not an OKX trader? Learn how to start trading!
---
Follow OKX
Twitter: https://twitter.com/OKX
Facebook: https://www.facebook.com/okexofficial/
LinkedIn: https://www.linkedin.com/company/okex/
Telegram: https://t.me/OKXOfficial_English
Reddit: https://www.reddit.com/r/OKX/
Instagram: https://www.instagram.com/okex_exchange