CME ETH futures growth suggests institutions are seeking Ethereum exposure
An original research report into the early growth of CME's Ether futures and what it says about institutional involvement in the market.
Written by OKX Insights | Powered by CryptoCompare
Ether futures went live on the Chicago Mercantile Exchange nearly three months ago. Since their Feb. 7, 2021 launch, appetite for the new derivative contracts has grown significantly among the accredited traders of the exchange. Partial data for the week ending April 25 shows weekly volumes hitting an all-time high of $353 million — over 166% more than the $132.57 million high from the week prior. In contrast, just $23.64 million worth of the new contracts were traded during their first seven days.
To delve further into market data, OKX Insights has collaborated with CryptoCompare to analyze the CME ETH futures' early growth. The data collected from the closing months of 2020 until April 21, 2021 — coupled with evidence of strong capital inflows to ETH exchange-traded products and investment funds — paints a clear picture of increasing non-retail demand for ETH exposure.
Providing investors a first real-time glimpse of what the network is capable of are Ethereum's DeFi and NFT sectors. Rising demand for institutional ETH offerings suggests the value captured over both sub-industries' short existences has not gone unnoticed.
Meanwhile, a forthcoming change to Ethereum's monetary policy looks set to strengthen ETH's overall value proposition. A potentially deflationary ETH — thanks to EIP-1559's fee-burn mechanism — may enhance the asset's appeal among the planet's wealthiest investors. Similarly, the launch of staking as part of an ongoing upgrade to Ethereum 2.0 appears to be contributing to the current rising demand.
Although still much smaller than the institutional buzz surrounding BTC during the end of 2020 and the start of 2021, early signs from the CME and other tailored institutional offerings confirm increasing investor appetite for ETH. Indeed, on a few occasions, ETH investment fund inflows have exceeded their BTC counterparts.
However, Bitcoin is essentially a finished product. Ethereum, by contrast, is in the middle of a complete upgrade. Although successfully transitioning the network to Ethereum 2.0 will surely be bullish for the ETH price long-term, for now, the inherent risk of such an overhaul seems a likely limiting factor on investment inflows. Likewise, the network's lengthy roadmap toward scalability creates opportunities for other smart contract blockchains to encroach on ETH's market dominance.
Explosive growth in CME futures since launch
Data provided by CryptoCompare shows contracts totaling $23.64 million traded during the first week of CME ETH futures. By the week ending Feb. 28, however, volume had increased more than threefold to reach $72.82 million.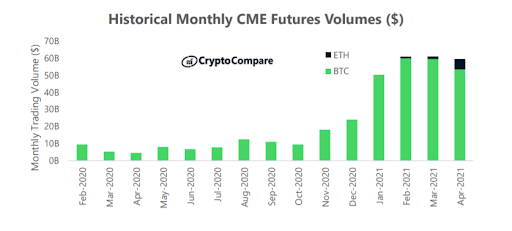 After dropping back significantly over the following few weeks, volume hit a new high of $73.96 million on the week ending April 11, and the subsequent seven-day period saw the volume surpass $132.57 million. The final data provided for this report on April 21, however, shows an even more significant increase in activity for the week ending April 25. Despite the absence of data for around half the week, volume still crossed $350 million.
Although the ETH futures offered by cryptocurrency exchanges like OKX still dominate the overall market volume, the CME's share is growing. In the product's first week of trading, CME ETH futures accounted for just 0.16% of all ETH futures by volume. The figure rose to 0.69% by the week ending April 18, and despite receiving the data four days before the end of the week ending April 25, the numbers reflect a 2.28% share of all volume.
CME's open interest growth figures are equally impressive. During their first month of trading, ETH futures had an average open interest of $61.17 million — or 1.4% of the wider market. The figures for March show a significant increase in activity, with the average open interest rising to a high of $101.67 million, which equates to 2.4% of the wider ETH futures market.
Finally, as of April 21, CryptoCompare's data shows that CME's open interest accounted for 3.7% of all ETH futures, as it stood at $205.6 million. The figures clearly demonstrate the increasing influence of institutional money in the market. As noted in CryptoCompare's accompanying documentation, the data provider anticipates a continuation of this trend.
ETH price gained 500%+ since CME's announcement
CME announced the launch of its ETH futures on Dec. 16, 2020. At the time, ETH was trading around $590. The nod of approval from one of the largest futures exchanges coincided with weeks of aggressive upside price action for ETH.
At the beginning of February, just days before the CME contracts went live, ETH's price took out its early 2018 all-time high of around $1,430. By Feb. 20, the second-largest cryptocurrency had risen to a local top just short of $2,000.
ETH traded below this high throughout March, however, only breaking above it again on April 2. It then continued its climb, reaching a new all-time high above $2,530 on April 16. Following a volatile week that took the price down to just above $2,000, ETH hit new highs once again. The surging interest in ETH during this time was also reflected in the CME ETH futures volume and open interest.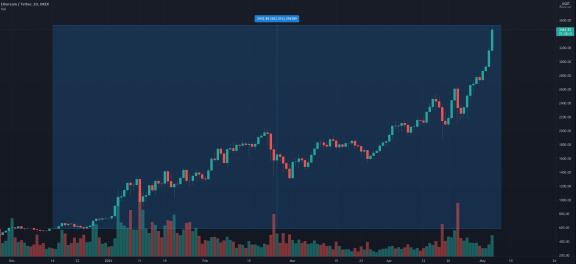 ETH/BTC price quotes also suggest a shift in market sentiment. Throughout 2020 and into 2021, the price of ETH had been increasing relative to BTC, and now, after the recent price rally, ETH is the strongest it has been versus BTC since mid-2018.
CME ETH futures growth reflects increasing institutional demand
In announcing the CME futures launch, Head of Equity Index and Alternative Investment Products at CME Group Tim McCourt commented on the continued growth of "institutional demand for transparent, exchange-listed crypto derivatives." Subsequent increases in both volume and open interest for the new ETH product seem to confirm said demand.
Adding support to the notion that Ethereum is becoming increasingly appealing to institutions is the number of new ETH exchange-traded products appearing in recent months — and the growth of existing ones. In December last year, 3iQ listed The Ether Fund on the Toronto Stock Exchange. Similarly, CoinShares' own exchange-traded product, CoinShares Physical Ethereum, went live on Feb. 24, while Galaxy Digital raised $32 million to launch two Ethereum funds at the beginning of March.
These new, regulated investment products join the likes of Grayscale in providing institutional investors an avenue to take exposure to ETH. CoinShares highlights significant inflows into this growing collection of ETH-based investment products in a series of weekly reports.
In its Dec. 14 market summary — the week preceding the CME ETH futures announcement — the report from CoinShares recorded inflows of $160 million into ETH investment products. Interestingly, the CME announcement appears to have temporarily cooled institutional sentiment toward ETH. The weeks between the announcement and the new product going live saw a significant drop in ETH investment fund inflows. During the week ending Jan. 18, for example, outflows actually exceeded inflows by $3 million.
Weekly ETH investment fund inflows returned to new highs of $195.1 million the week before CME ETH futures went live, however. This surge represented 80% of total investment fund inflows for all cryptocurrencies. The following week, BTC investment fund inflows dominated the market again, but ETH inflows still climbed to $216 million.
Inflows slowed again as ETH hit a new all-time high in February and traded below it through March. While the $21.7 million entering investment funds — noted in the April 12 report — is far from an all-time high, funds flowing in continue to exceed capital leaving such investment products.
With clear evidence of institutional buying amid ETH's dramatic price rise, it is little surprise that the CME's ETH futures are gaining popularity. Firstly, the product allows traders who might otherwise struggle to get exposure due to compliance issues a means to speculate on ETH's price performance at a familiar and trusted trading venue.
Perhaps more importantly, however, futures contracts enable traders to hedge their exposure to ETH's spot price. Given ETH's recent rally and significant investment fund inflows suggesting growing institutional exposure to ETH spot price, it is easy to see the appeal of a product that could protect against the sudden price drops common in the crypto markets.
What is driving institutional ETH interest?
Normalization of cryptocurrency investing
The narrative around ownership of cryptocurrencies shifted during 2020. Major BTC purchases by business intelligence firm MicroStrategy, life insurers Massachusetts Mutual and others appeared to prompt global financial companies such as JPMorgan Chase and Goldman Sachs to warm up to the industry. Tesla's entry into the cryptocurrency market in early February 2021 further legitimized corporate and institutional interest in the space, and both BTC and ETH prices hit new highs shortly after the forward-looking vehicle manufacturer revealed its BTC position.
CoinShares' figures for BTC investment funds provide more evidence of growing institutional interest. The first quarter of 2021 saw record inflows of $4.5 billion to the BTC products offered by Grayscale and others. The figure is 11% larger than the $3.9 billion reported for the final quarter of 2020.
Moreover, CME's BTC futures figures, provided by CryptoCompare, also reflect the rising institutional interest during 2020 and into 2021. The company reports that CME's average trading volume for 2020 accounted for just 1.2% of all BTC futures volumes. However, during March 2021, CME BTC futures represented 4.5% of the broader BTC futures market. Like the ETH futures figures, volatility during the first half of the week ending April 25 encouraged a spike in CME BTC futures. As of April 21, volume at the institutional-friendly exchange accounted for 10.3% of the wider BTC futures market.
Growing Ethereum use cases
Whereas the investment case for BTC primarily focuses on the asset's store of value proposition, ETH is used as fuel for the decentralized applications built on Ethereum. Increasing DApp usage drives demand for ETH, and many of those speculating on the ETH price do so with the expectation that future network usage will increase the value of their investment.
One sector seeing particularly impressive adoption in recent years is decentralized finance. Growth in this sub-industry is typically measured by the total capital locked across all DeFi protocols. At the beginning of 2021, analytics provider DeFi Pulse reported around $16 billion in total value locked. The figure recently peaked above $62.32 billion in mid-April.
Although the still-young DeFi sector's risks mean traditional financial companies have not yet publicly dabbled with such protocols, there is evidence that the sub-industry is on their radar. In April 2020, several notable companies, including TD Ameritrade, Cumberland and CMT Digital, united to create the Chicago DeFi Alliance to support the emerging sector.
In a Medium post detailing the CDA's formation, Soona Amhaz, a co-founder of CDA member Volt Capital, commented:
"There's a real opportunity here to leverage financial and trading expertise from Chicago to support DeFi products around the world."
Additionally, Bitwise Asset Management announced its DeFi Crypto Index Fund in February 2021. The new product enables accredited investors to take exposure to a basket of top DeFi tokens. Notably, the index launched with only Ethereum-based DeFi assets, including MKR, COMP, UNI, YFI and others.
Equally demonstrative of Ethereum's growing utility is the NFT sector. Recent high-priced digital art sales, the increasing appeal of digital collectibles and multiple million-dollar CryptoPunks purchases highlight an altogether different use for Ethereum. Despite daily volume retracing from its March 14 all-time high of $7.7 million, the most popular Ethereum NFT marketplace, OpenSea, continues to see around $1.16 million worth of NFTs change hands each day.
Neatly summarizing the sudden growth in Ethereum usage are figures from blockchain analysis company Messari. As Ryan Watkins, a senior research analyst at the firm, notes, the network's transaction volume in Q1 2021 exceeded the total volume for the previous two years combined:
Upcoming Ethereum updates
Another significant and potentially demand-driving event in the Ethereum ecosystem occurred immediately before the CME announced its ETH futures. The first phase of the network's long-awaited upgrade to Ethereum 2.0 was implemented on Dec. 1, 2020.
The upgrade will eventually increase the network's performance and reduce the transaction fees that today stand as a barrier to entry for many. However, more immediately relevant to ETH's recent price performance is the network's transition to a proof-of-stake consensus mechanism.
The new mechanism will eventually replace the power-hungry proof-of-work used in Bitcoin. The change will address Ethereum's electricity consumption — a typical bone of contention among crypto critics — and also extends participation in the network's consensus to holders of more than 32 ETH. In exchange for supporting the network, stakers receive ETH issued by the protocol as block rewards.
Due to connectivity demands and upfront capital requirements, operating a staking node is non-trivial. However, since December, several companies and exchanges — OKX included — have started offering staking services. Among them are efforts like the Staked ETH Trust and Codefi Staking. These offerings are tailored exclusively to accredited and institutional investors wanting to participate in staking without the hassle of operating their own nodes.
With the process increasingly accessible, ETH staked in the deposit contract for Ethereum 2.0 now exceeds 3.9 million — an almost 79% increase since Jan. 1, 2021. It seems fair to conclude that the network's new passive income-generating potential is at least partly responsible for ETH's recent price performance.
Further increasing the appeal of investing in ETH is an upgrade scheduled for this summer. Planned for activation in July 2021, EIP-1559 will introduce a mechanism by which a percentage of transaction fees are forever destroyed.
Currently, new ETH enters circulation with each block added to the blockchain, and the network's users pay fees directly to miners. Under EIP-1559, each transaction included in a block would permanently remove most of the ETH paid in fees from the circulating supply, significantly reducing inflationary pressure on ETH price. Indeed, at times of heightened Ethereum usage, more ETH might be destroyed than is issued to transaction validators. This check on the total issuance rate could make ETH a more investable prospect.
Although many of those actively following the cryptocurrency industry seem aware of EIP-1559, it is difficult to quantify the information's proliferation among those institutional investors already trading ETH products. However, the world's largest digital asset manager, Grayscale, does dedicate a section of its February 2021 report titled "Valuing Ethereum" to the upgrade.
The fund manager writes:
"If activity increases and the supply of Ether decreases due to burning, a supply and demand curve would indicate an increase in the unit price of Ether because each unit would need to satisfy a greater proportion of economic activity. If EIP-1559 is implemented, it would institute a consumption mechanism that should serve as a positive feedback loop for Ether's price."
Conversely, Galaxy Digital's January 2021 Ethereum client report omits the upgrade. Its authors do dedicate sizable sections to both the network's ongoing transition to Ethereum 2.0 and the value captured by the DeFi industry, however. In concluding, they write:
"ETH is a growth asset: it is a bet on the growing network effect of an exciting new information substrate. It is a bet that more billion-dollar applications will be built on the Ethereum blockchain."
Will ETH continue to follow BTC's lead?
Thanks to its more established market and surrounding infrastructure, BTC continues to dominate ETH by most trading metrics — including CME futures. However, appetite for regulated ETH derivatives is clearly growing.
In their first week, CME ETH futures' $23.6 million volume represented 1.36% of their BTC equivalents' $2.13 billion. A month after launch, that percentage had risen to 2.56%. During the volatile days between April 18 and April 21, it spiked as high as 9.36%.
In a summary of its data, CryptoCompare notes a current ratio between ETH-based and BTC-based investment fund inflows of around 15%. The analysis firm speculates that futures volume at CME may eventually follow a similar split.
The growth of ETH investment fund inflows and rising demand for CME futures clearly shows that high net worth investors are getting increasingly comfortable with ETH. The sheer value captured by the recent DeFi- and NFT-driven boom in network usage is difficult to ignore — and changes to ETH's monetary policy and a roadmap to address current network shortcomings further strengthen the investment case.
That said, the uncertainty created by the upgrade to Ethereum 2.0 may temporarily limit institutional appetite for ETH exposure. Successfully scaling the network to extend its capabilities beyond those that can afford the current gas prices would be undoubtedly bullish for ETH price. However, the lengthy timeline to activation and risks associated with upgrading a live network worth hundreds of billions of dollars makes ETH a much more speculative play than BTC.
Likewise, transaction fees on Ethereum price many out of using the network and make particular use cases economically unviable. This creates an opportunity for non-Ethereum blockchains with lower transaction costs to absorb market share from the dominant smart contract network.
Recent interest in Solana, Cosmos, Avalanche, Cardano and other blockchains provide very real evidence of Ethereum's unsteady position as leader of the smart contract platform ecosystem. It will be interesting to see the extent to which the factors discussed here and others encourage or suppress institutional demand for ETH in the run-up to Ethereum 2.0's eventual launch.
---
OKX Insights presents market analyses, in-depth features, original research & curated news from crypto professionals.