BTC Breaches 30-Day Moving Average, Targets $11,000
Today's edition of OKX Insights' Crypto Market Daily covers Bitcoin, Ethereum, altcoins and DeFi.
Over the weekend, the price of Bitcoin (BTC) once again found support around $10,600, keeping the rebound pattern in place since Sept. 24 valid. Subsequently, in the early hours of this morning, BTC appeared to rise with amplified volume and broke through its 30-day moving average — indicating that large funds are willing to actively purchase on the market.
Interestingly, Bitcoin SV (BSV) and Bitcoin Cash (BCH) have surged 7.10% and 4.45%, respectively, over the past 24 hours. It's been a long time since we've seen these two coins lead the major altcoin sector. Meanwhile, Chainlink (LINK) is currently range-bound between $10 and $11 after recovering 45% from its two-month low of $7.30 on Sept. 23. All other major altcoins have underperformed against BTC.
The total cryptocurrency market capitalization added 1.9% and now sits above $350 billion, as per data from CoinGecko. Meanwhile, BTC dominance dropped to 57.2%. 

In the decentralized finance sector, we are likely seeing the first time Uniswap has ever been used to swap funds hacked from an exchange. The cryptocurrency platform Kucoin was hacked on Sept. 25, 2020. Shortly after, hackers started leveraging the leading decentralized exchange to swap various ERC-20 tokens — mostly OCEAN. Despite this, UNI's price remained firm, hitting $5.20 at one point before falling back to $4.50. The market still has great hopes for the launch of UNI V3, and there is significant buying interest from retail investors.

Top altcoin gainers and losers
INX/USDT -13.33%
WGRT/USDT -14.30%
MXT/USDT -29.00%
Today's first-place performer is APIX, which is up 32.43%. It is followed by CyberVeinToken (CVT), which surged 20.13% overnight and has reaped a 120% gain over the past month.
WaykiChain Governance Coin (WGRT), on the other hand, is stuck in a steady decline, having fallen another 14.30% overnight. It has lost more than 50% of its price over the past month.
BTC technical analysis
On the daily chart, BTC has broken above its 30-day moving average — which is indicative of a strong uptrend. However, it has re-entered the $10,800 to $11,000 area of intense historical trading.
The intraday threshold is located at $10,760, with strong resistance near $11,000 levels.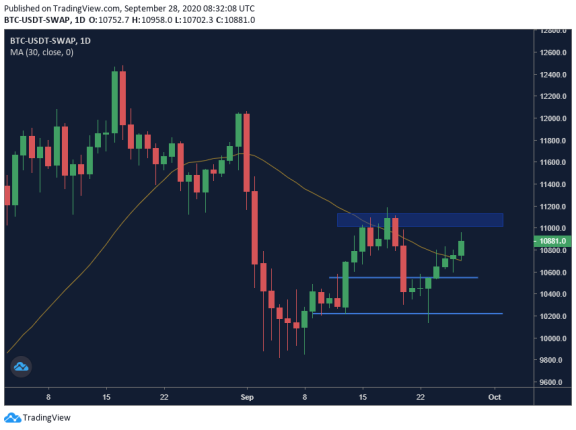 However, on the MACD indicator at the 15-minute level, we may observe a bearish divergence — which indicates that the active buying volume is now starting to weaken.
For a snapshot of the changes in institutional investors' positions, readers can jump to OKX Insights' recently published Market Watch Weekly article.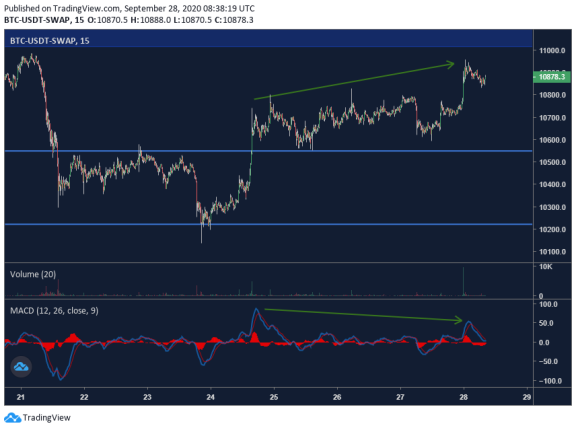 ETH technical analysis
ETH underperformed against BTC over the weekend and did not make a higher high. The upper resistance level remains at $362, while the lower support at $347 may not be particularly strong.
Not an OKX trader? Learn how to start trading!
---
Disclaimer: This material should not be taken as the basis for making investment decisions, nor be construed as a recommendation to engage in investment transactions. Trading digital assets involve significant risk and can result in the loss of your invested capital. You should ensure that you fully understand the risk involved and take into consideration your level of experience, investment objectives and seek independent financial advice if necessary.
---
OKX Insights presents market analyses, in-depth features, original research & curated news from crypto professionals.